| | |
| --- | --- |
| Model Railroad Crossing Signal and Crossing Gate Control System | |
Where do most folks see trains in the real world? At a grade crossing. Visitors to your model train layout will connect your crossing signals to the real world. The more realistic your model grade crossings, the stronger the connection.

Give your visitors a visual treat. A realistic operating grade crossing signal system will definitely boost the 'cool' factor of your layout.


MRX2 includes a connection for non-flashing lamps, like these automobile brake lights
Grade Crossing Signal Flashers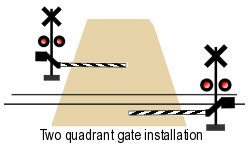 Now with 4-quadrant crossing gate control
What are four-quadrant crossing gates? Typical North American railroad crossing gates on two-way streets block traffic on half of the road. The gates cover the lanes of approaching traffic, but not the lanes leading away from the tracks. Foolish drivers sometimes cross the highway median, drive around the gate and get hit by a train.

To reduce collisions at grade crossings, railroads are installing four quadrant gate systems on high speed rail corridors, commuter lines, light rail systems and in areas with high concentrations of foolish drivers.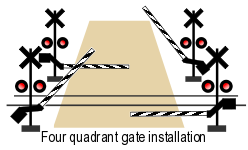 Four quadrant gates block all lanes of traffic on both sides of the tracks. Gate operation is sequenced. The 'entrance' gates close first, blocking approaching cars. Then the 'exit' gates close on the opposite side of the tracks. The delayed closing of the exit gates prevents vehicles from being trapped on the tracks.

Operation Lifesaver has a video of a prototype four quadrant crossing gate, [click here].
MRX2 crossing signal controller with or without pre-wired infrared sensor sets


Select the number of IR sensors to include with the MRX2.



Sold out... a little sooner than we expected.
We're making some enhancements and the new MRX3 crossing signal control circuit should be available by early May 2016.
It will be worth the wait.

No IR sensors included.
For use with block occupancy detectors or with your own infrared sensors.
'Barefoot'
$53.50
Six IR sensors sets, two with 2 ft (60cm) and four with 6 ft (180cm) wire length.
6 sensors for one track, or
use with two MRD1 single detectors (sold separately below) to protect two tracks with 4 sensors per track.
2x 2 ft, 4x 6ft
$71.50
Four IR sensors sets, 2 ft (60cm) and 6 ft (180cm) wire length.
4 sensors for one track, or
2 sensors per track, 2 tracks.
2x 2 ft, 2x 6ft
$65.50
MRD1 single IR train detector.
Add two MRD1's with the 6-sensor MRX2 (above) to protect two tracks at one crossing with 4 sensors per track.
Price shown for each MRD1.
MRD1, each
$18.50
---
MRD6 HexDetex™ with four or six pre-wired infrared sensor sets


Select the number of IR sensors and their wire length.

No IR sensors included.
For users who will use their own IR sensors.

'Barefoot'
$41.50
All six sensor sets with 2-ft (60cm) wire length.
Use when all detection zones are close together.
6 x 2 ft.
$53.50
Two sensor sets with 2-ft (60cm) wire length.
Two sensor sets with 6-ft (180cm) wire length.
Four sensor sets for crossing signal control where only four sensors are needed.
2x 2ft, 2x 6ft.
$53.50
Two sensor sets with 2-ft (60cm) wire length.
Four sensor sets with 6-ft (180cm) wire length.
Use when detection zones are widely separated, or for crossing signal control where six sensors per track are needed.
2x 2ft, 4x 6ft.
$59.50
---
© copyright 2009-2016 Azatrax LLC, Longmont, Colorado