| | |
| --- | --- |
| Model Railroad Crossing Signal and Crossing Gate Control System | |
Where do most folks see trains in the real world? At a grade crossing. Visitors to your model railroad layout will mentally connect your crossing signals to the real world. The more realistic your model train grade crossings, the stronger the connection.

Give your visitors a visual treat. A realistic operating grade crossing signal system will definitely boost the 'cool' factor of your railroad layout.




Looking for trackside block signal control circuits?

• For the TS2 three-color system, click here.
• For simple green/red signaling, click here.

MRX3 circuit includes a connection for non-flashing lamps, like these automobile brake lights
Grade Crossing Signal Flashers
Control circuits and flasher circuits for road crossing warning lights with or without crossing gates.
Sophisticated microprocessor controller.
Manual control capability.
Easy to daisy-chain controllers for multiple parallel tracks.
Compatible with most block occupancy detectors.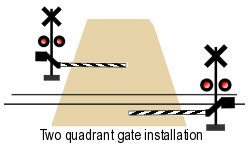 Now with 4-quadrant crossing gate control
What are four-quadrant crossing gates? Typical North American railroad crossing gates on two-way streets block traffic on half of the road. The gates cover the lanes of approaching traffic, but not the lanes leading away from the tracks. Foolish drivers sometimes cross the highway median, drive around the gate and get hit by a train.

To reduce collisions at grade crossings, railroads are installing four quadrant gate systems on high speed rail corridors, commuter lines, light rail systems and in areas with high concentrations of foolish drivers.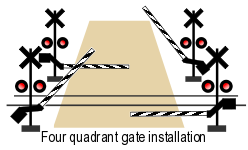 Four quadrant gates block all lanes of traffic on both sides of the tracks. Gate operation is sequenced. The 'entrance' gates close first, blocking approaching cars. Then the 'exit' gates close on the opposite side of the tracks. The delayed closing of the exit gates prevents vehicles from being trapped on the tracks.

Operation Lifesaver has a video of a prototype four quadrant crossing gate, [click here].


• Installation instructions [pdf]
• Working crossing gates examples
• Where to place the IR sensors
• Use with block occupancy detectors
MRX3 Crossing Signal Controller


Accepts input from 2 to 6 built-in infrared ('IR') train detectors to simulate real world crossing signal operation.
May also be used with block occupancy detectors.
Flasher circuit works with all types of signal lights. Configuration is automatic, no manual programming:

Common anode LEDs
Common cathode LEDs
Back-to-back LEDs
Incandescent bulbs

Includes a connection for non-flashing lamps for automobile brake lights or lights at the tip of the crossing arms.
Signal lights circuit will supply up to 500 milliamps (0.5 amp).
To raise and lower crossing gate arms you may use either Tortoise™ slow-motion switch machines or R/C type servo motors. Supports 2-quadrant and 4-quadrant gate systems.
Gate arm up/down speed is adjustable.
Will operate non-flashing devices such as a banjo or wigwag crossing signal.
Circuit board dimensions: 2.9 x 3.6 inches (74 x 91 mm).
Power required: 9 to 16 volts AC or DC will work.

If using operating crossing gates, a regulated 12v DC supply is recommended, such as our PS1206.
Slow motion motors (Tortoise®) run faster with higher voltage, slower with lower voltage.
R/C servo speed does not vary with supply voltage, but a regulated DC supply is recommended because the servos draw high current in short pulses.
MRX3 crossing signal controller with or without pre-wired infrared sensor sets


Select the number of IR sensors to include with the MRX3.

No IR sensors included.
For use with block occupancy detectors or with your own infrared sensors.
'Barefoot'
$54.00
Five IR sensors sets, two with 2 ft (60cm) and three with 6 ft (180cm) wire length.
Use at a single track crossing with a track switch near the crossing.
See the crossing system configurations page for details.
2x 2 ft, 3x 6ft
$69.00
Four IR sensors sets, 2 ft (60cm) and 6 ft (180cm) wire length.
4 sensors for one track, or
2 sensors per track, 2 tracks.
2x 2 ft, 2x 6ft
$66.00
Six IR sensors sets, two with 2 ft (60cm) and four with 6 ft (180cm) wire length.
6 sensors for one track, or
use with two MRD1 single detectors (sold separately below) to protect two tracks with 4 sensors per track.
2x 2 ft, 4x 6ft
$72.00
MRD1-NV single IR train detector.
Add two MRD1-NV detectors with the 6-sensor MRX3 (above) to protect two tracks at one crossing with 4 sensors per track.
Price shown for each MRD1-NV.
MRD1-NV, each
$17.50
---


• Installation instructions [pdf]
MRD6X HexDetex™ Expander Circuit


Use with MRX3 Controller (above) to protect additional parallel tracks at the same grade crossing.
Can be used to trigger signals with built-in flasher circuits such as MTH RailKing™ crossing signals.
Available with 4 or 6 infrared train sensors.
The installation instructions will help you with detector placement.
Circuit board dimensions: 2.5 x 2.5 inches (64 x 64 mm).
Power required: 9 to 16 volts AC or DC.





MRD6X HexDetex™ with four or six pre-wired infrared sensor sets


Select the number of IR sensors and their wire length.

No IR sensors included.
For users who will use their own IR sensors.

'Barefoot'
$41.50
All six sensor sets with 2-ft (60cm) wire length.
Use when all detection zones are close together.
6 x 2 ft.
$53.50
Two sensor sets with 2-ft (60cm) wire length.
Two sensor sets with 6-ft (180cm) wire length.
Four sensor sets for crossing signal control where only four sensors are needed.
2x 2ft, 2x 6ft.
$53.50
Two sensor sets with 2-ft (60cm) wire length.
Four sensor sets with 6-ft (180cm) wire length.
Use when detection zones are widely separated, or for crossing signal control where six sensors per track are needed.
2x 2ft, 4x 6ft.
$59.50
---


• Installation guide [pdf]


Steve Doyle and Doug Hodgdon of Model Railroad Academy discuss the D2T-Xing basic crossing signal controller.
Click to watch the video.
D2T-Xing
Basic crossing signal flasher circuit with two IR sensors for a single track road crossing




Flashes incandescent bulbs or common anode (+) LEDs.

Soft on/off lamp fading.
LED signals must be wired with positive side as 'common.'
NJI, Tomar and Walthers crossing signals are wired this way, as are most other commercially made crossing signals.
If your LED signals do not already have resistors installed, use the resistors included with the D2T-Xing circuit.

Normally open and normally closed relay contacts for controlling other accessories such as sound effect modules, lights, slot car tracks, etc.
Can be used with signals that have built-in flasher circuits such as MTH RailKing™ crossing signals and Lionel™ 6-14098 crossing gates.
Circuit board dimensions: 2.5 x 2.35 inches (64 x 60 mm).
Power required: 9 to 16 volts AC or DC.

Signals sold separately on these pages:
D2T-Xing with two pre-wired infrared sensor sets
Includes one IR sensor set with 2-ft (60cm) wire leads and one IR sensor set with 6-ft (180cm) leads.
$39.00
---
© copyright 2009-2018 Azatrax LLC, Longmont, Colorado