Tortoise™ wiring aid

• Two-circuit and eight-circuit Euro-style terminal blocks
• Simplifies wiring Tortoise switch machines, signals and layout accessories
• White nylon housing, easy to saw to custom length
• Accepts wire sizes up to AWG 12
• Rated for up to 20 amps per circuit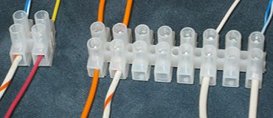 Tortoise™ switch machines are known for smooth operation and reliability. The one complaint we've heard is that it's difficult to connect wires to the Tortoise. It is awkward to solder wires while crouched under your layout.
Some layout builders have used circuit board edge connectors with varying degrees of success. The trouble with edge connectors is that you still have to solder wires to the connector, and this has to be done under the layout.
Our preferred way to wire a Tortoise™ motor is to:
• On the workbench, solder short wires to the Tortoise
• Place a terminal block under the layout near the planned motor location
• Mount the Tortoise according to instructions.
• Connect to the layout wiring via the terminal block
You still have to solder wires to the switch machine, but it is done safely at your workbench. All under-layout wiring is done with a screwdriver.