Model Railroad Double Reverse Loop Wiring

How to wire two reverse loops on your two-rail layout for automatic operation
How to wire the reverse loops and track switches on a double-loop layout with a double track connecting main line with crossovers. Wiring a reversing loop (or turn-around track) may seem complicated, but if you take one step at a time and check your work, you will have a fully automated reverse loop and worry-free train operation.

[Click here to review reverse loop fundamentals]

This type of 'dog bone' type layout with a double track main line would essentially be a plain oval, except for the crossovers. The crossover tracks allow the train to reverse its direction around the dog bone, therefore reverse loop wiring technique must be used.

The solution shown here works equally well for DC, AC and DCC two rail layouts... However, when running multiple trains at the same time, there is a possibility of conflict, such as when one train is crossing the West Loop's 'M' junction, and a second train is crossing the East Loop's 'X' junction.

For analog DC and AC layouts with block control wiring, one MREV module is needed for each cab control. See the multi-cab reverse loop wiring page.
For layouts that are DCC only, a better solution is to use two DCC auto-reverse modules, one for the West Loop and one for the East Loop.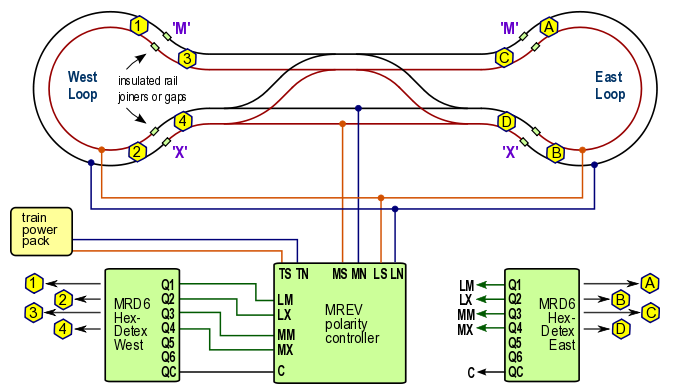 This system, shown above, divides the track power into two districts - a 'Loop' district and a 'Main' district. Track power is routed from the power pack, or 'cab control,' through the MREV polarity controller, then to the two track power districts. The MREV polarity controller independently manages the polarity of the two track power districts.

There are four junctions where a train can cross from one district to the other. At each junction are two train detectors to sense when a train is about to cross the junction. All detectors are wired to the MREV polarity controller.

The detectors from each loop are wired in parallel to the MREV. Detectors '1' and 'A' are wired to the 'LM' input on the MREV. Detectors '2' and 'B' are wired to 'LX'. Detectors '3' and 'C' are wired to 'MM', and detectors '4' and 'D' are wired to 'MX'.

When the east and west loops are more than 20 feet (6m) apart, it may be more practical to use two MRD6X HexDetex™ modules as shown above. If the two loops are closer together, such as if the main line doubles back on itself, then one MRD6X HexDetex™ and two MRD1 single detectors can be used as the eight detectors.

The MREV polarity controller and the train detector circuits require a power supply, 8 to 15 volts AC or DC.
Questions? Contact us and we will help tailor a system that best fits your layout.
MREV Polarity Controller

$36.50

MRD6X HexDetex™ train detector
• Includes four or six infrared sensor pairs (IrLEDs & photo-transistors)
• Sensors have wire leads, choose wire length combo:
* 2-6-6 - Two sensors with 2-ft leads, four sensors with 6-ft leads
* All 2 ft - All six sensors with 2-ft (60cm) leads.
* 2-6 - Two sensors with 2-ft leads, two sensors with 6-ft leads
* Leads may be extended up to 25 ft (7.5m) by splicing additional wire
MRD1 Single train detector
• Includes one infrared sensor pair (IrLED & photo-transistor)

$16.95

Accessory power supply, PS1206
• Regulated 12vdc, 600mA, slim plug-in
• One supply can power a dozen Azatrax circuit modules

$9.50

Package for Double Track Dogbone, 8 Detectors
Everything needed for a dogbone layout, end loops near each other:
• MREV polarity controller
• One MRD6X HexDetex™, two 2-ft sensors, four 6-ft sensors
• Two MRD1 single detectors with IR sensors
• One PS1206 12vdc 600mA regulated power supply

$132.00

Package for Double Track Dogbone, 2 HexDetex™
Everything needed for a dogbone layout, end loops over 20 ft from each other:
• MREV polarity controller
• Two MRD6X HexDetex™, two 2-ft sensors, two 6-ft sensors each
• One PS1206 12vdc 600mA regulated power supply

$145.00
---
© copyright 2009-2013 Azatrax LLC, Longmont, Colorado